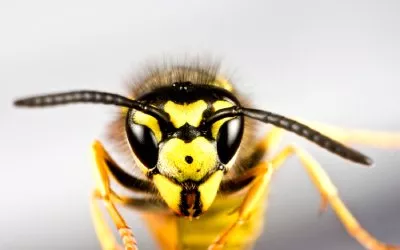 Virginia is full of great outdoor activities in the summertime. It's also full of bugs. While most of these bugs are just annoying like cicadas or gnats. Some, like bees and wasps, can cause painful stings, and even allergic reactions when they cross our paths. Want to keep bees and wasps from ruining your outdoor activities naturally? Read on to learn how!
Which Plants Attract Wasps and Bees?
Because bees and wasps are pollinators, they're attracted to flowering plants. But they're not attracted to all plants equally. Here are some species that especially attract bees and wasps:

Black-eyed Susan

Honeysuckle

Lantana

Lilacs

Perennial Yarrow

Poppies

Pale Purple Coneflower

Sweet Fennel

Wisteria

Queen Anne's Lace

Sedum

Snapdragon

Sunflowers



If you regularly encounter bees and wasps around your home and you have one or more of these flowers growing nearby, it's probably not a coincidence. Consider moving them further away from your home.
Which Plants Repel Wasps and Bees?
Despite being pollinators, bees and wasps aren't attracted to all flowers. The scent of the following plants are strong natural repellents for bees and/or wasps:
Basil

Citronella

Geraniums

Marigolds

Peppermint

Spearmint

Thyme

Wormwood
If you're considering adding some flowering plants to the outside of your home, particularly near any outdoor spaces, consider these plants. They'll help keep stinging insects away.
Your Food Attracts Bees and Wasps
Summertime is a time for eating food outside. Barbecues, picnics and ice cream cones are just some of the classic ways we enjoy food outside in the summer. But these also attract wasps and bees. To help lower the odds that a striped stinging insect will ruin your barbecue, take these precautions:
Don't leave food or food-soiled items out. Throw out trash and pack up leftovers.

Speaking of trash, make sure the trash can lid is tightly sealed. 

Keep your beverage closed or covered. Wasps are strongly attracted to sugary drinks.
Just as some plants repel bees and wasps, there are some foods that repel them too, including:
Bay Leaves

Cinnamon

Cloves

Cayenne Pepper

Garlic

Sliced Cucumber

Vinegar
Because these items are relatively inexpensive and can be found at most grocery stores, they make a convenient natural pest repellent. Just splice, sprinkle or pour into a convenient container and leave them around outdoor spaces like decks, porches or patios. 
Make a Natural Bug Repellent with Essential Oils
If you'd like a little more control over the location and amount of pest repellent, this method may be for you. Stinging insects are repelled by the following essential oils:
Citronella oil

Clove oil

Eucalyptus oil

Geranium oil

Peppermint oil

Rosemary oil
You can make an all-natural bug repellent by combining essential oil and water. Use a ratio of two drops of essential oil per ounce of water. Put the mixture in a spray bottle and you're ready to go. 
Best Bee and Wasp Control in Eastern & Central VA
These natural pest repellents can be very helpful. However, if you have a major infestation or a nest on your property, it won't be enough. Call Loyal Termite and Pest Control today. We're experts at safely removing wasps and bees and have been providing industry-leading pest control in Virginia for 60 years. 
Ways to Repel Bees and Wasps Naturally in Virginia
Serving the Henrico and Richmond VA area since 1960
Henrico | Richmond | Ashland | Aylett | Beaverdam | Bowling Green | Bumpass | Caroline | Chesterfield | City of Richmond | Colonial Heights | Dinwiddie | Doswell | Fredericksburg | Glen Allen | Goochland | Hanover | Highland Springs | Hopewell | Louisa | Manakin Sabot | Manquin | Mechanicsville | Midlothian | Montpelier | Mosley | New Kent | Oilville | Powhatan | Prince George | Providence Forge | Quinton | Rockville | Ruther Glen | Spotsylvania | Short Pump | West Point