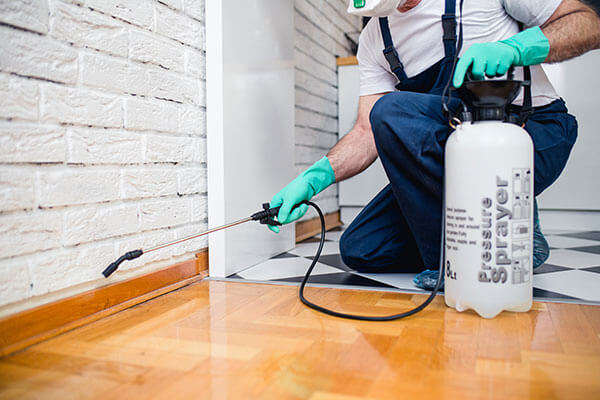 If termites are determined to be infesting your property, it's important to treat them right away with the most effective termite treatment possible. The termite exterminators at Loyal Termite & Pest Control is proud to offer three of the industry's top termite treatments: Termidor, Sentricon, and Altriset.
When termites are discovered in your property, our team will work hard to control them. All of the termite protection options we use are certified and trusted industry-wide to tackle termite infestations.
Termidor Termite Treatment
Loyal Termite & Pest Control is proud to have been among the first in the country to offer Termidor. The Termidor liquid treatment is different from previous, older barrier treatments because it utilizes a brand new generation of chemistry for termite control. Termidor is non-repellent, so termites readily pass through once it is placed in the soil. They pick up the active ingredient and spread it throughout the colony, transferring it to every other member of the colony. In a matter of three months or less, the entire termite colony is eliminated!
Need a pest control estimate?
Benefits of Sentricon Termite Treatment
The Sentricon System with Always Active technology begins protecting your home against termites right away. Bait is placed in all stations around your home upon installation, making it immediately available to termites. This highly durable bait is specially designed to remain in the soil for long periods of time. Termites feed on the bait and share it with nestmates until the entire colony is controlled. Best of all, Sentricon requires no drilling in floors or foundations, no digging or trenching, and no gallons of chemical solution injected into the soil!
How Altriset Termiticide Works
Altriset is another industry-leading termite treatment that works by paralyzing the mouths of termites within hours of ingestion, stopping further damage immediately. After Altriset is applied by one of our termite exterminators, termites will ingest it and carry it on their bodies unknowingly. Social behavior will help spread the termiticide throughout the colony, ultimately controlling the entire colony in three months or less.

Best Termite Control Options
Loyal Termite & Pest Control prides itself on being an industry leader in controlling termites, which is why we use three of the top termite control products—Termidor, Sentricon, and Altriset. With regular inspections, reliable treatments, and year-round protection from our termite exterminators, you can trust your property will stay termite-free.
Call us today to learn more!
Back to Termite Exterminators, Control & Removal
Termite Treatment Options in Virginia
Serving the Henrico and Richmond VA area since 1960
Henrico | Richmond | Ashland | Aylett | Beaverdam | Bowling Green | Bumpass | Caroline | Chesterfield | City of Richmond | Colonial Heights | Dinwiddie | Doswell | Fredericksburg | Glen Allen | Goochland | Hanover | Highland Springs | Hopewell | Louisa | Manakin Sabot | Manquin | Mechanicsville | Midlothian | Montpelier | Mosley | New Kent | Oilville | Powhatan | Prince George | Providence Forge | Quinton | Rockville | Ruther Glen | Spotsylvania | Short Pump | West Point