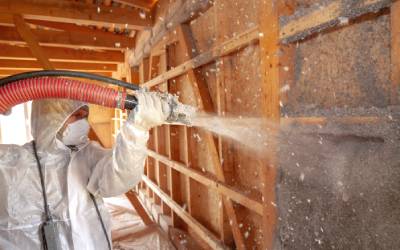 If you are a Virginia homeowner considering installing new insulation, you may be familiar with TAP insulation. At Loyal Termite & Pest Control, we are licensed TAP Insulation installers! TAP stands for Thermal Acoustical Pest Control insulation. It is a type of insulation designed to provide homeowners multiple benefits beyond just temperature control. 
What Is TAP Insulation?
TAP insulation is loose-fill insulation made from recycled paper treated with borates and a fire retardant. This insulation increases a home's comfort and energy efficiency when blown into crawl spaces, walls, and attics. The borate solution provides TAP insulation with several unique qualities.
TAP insulation is a durable, noninvasive, and environmentally safe home pest management solution. It is a popular option among homeowners since it can assist in increasing energy efficiency and lower noise pollution in the home.
How Does TAP Insulation Compare to Normal Insulation?
TAP insulation offers unique benefits compared to traditional insulation. It provides pest control benefits that traditional insulation lacks. That makes it a better choice for homeowners in areas prone to pest infestations. Secondly, it offers soundproofing benefits, reducing noise pollution in noisy places. 
Though more expensive than traditional insulation, TAP insulation is worth the cost. However, note that it requires installation by a licensed pest control company. A homeowner or a general contractor can install traditional insulation.
TAP Insulation Pros and Cons
Pros:
Pest Control: TAP insulation contains borate, a natural pest deterrent. Borate is harmless to humans and pets but is highly effective in controlling pests. Pests like rodents and insects typically enter homes through small gaps and openings in walls, roofs, and foundations. Installing TAP insulation in these gaps and spaces creates a barrier that pests cannot penetrate. This reduces the need for other pest control techniques and aids in preventing pest infestations in your house.

Soundproofing: TAP insulation is denser than traditional insulation. This makes it an excellent sound barrier. Its density absorbs sound waves and reduces noise pollution. This makes your home quieter and more comfortable.

Fire Retardant: TAP insulation contains a fire retardant that makes it less likely to catch fire and spread flames in the event of a fire. TAP insulation uses a nontoxic fire retardant that is safe for people and animals. TAP insulation can lengthen the time you have to flee in the event of a fire by slowing the spread of the flames.

Insulation: TAP insulation provides all the benefits of traditional insulation. It assists in controlling your home's temperature. Your home will be cool in the summer and warm in the winter.

Proper insulation is an eco-friendly choice. It can lower your energy costs and carbon footprint. TAP insulation can also help prevent moisture buildup. This buildup can cause mold growth and other issues.
Cons:
Cost: TAP insulation is generally more expensive than traditional insulation.

Installation: Only a licensed pest control company can install this type of insulation.
Call the Best TAP Insulation Experts in Virginia
Are you considering TAP insulation for your home? If so, be sure to contact a licensed pest control company to have it installed. Loyal Termite & Pest Control is a licensed TAP insulation installer in Virginia. Contact us to schedule an appointment and learn about the benefits of TAP insulation.
TAP Insulation – How Does It Compare to Normal Insulation? in Virginia
Serving the Henrico and Richmond VA area since 1960
Henrico | Richmond | Ashland | Aylett | Beaverdam | Bowling Green | Bumpass | Caroline | Chesterfield | City of Richmond | Colonial Heights | Dinwiddie | Doswell | Fredericksburg | Glen Allen | Goochland | Hanover | Highland Springs | Hopewell | Louisa | Manakin Sabot | Manquin | Mechanicsville | Midlothian | Montpelier | Mosley | New Kent | Oilville | Powhatan | Prince George | Providence Forge | Quinton | Rockville | Ruther Glen | Spotsylvania | Short Pump | West Point